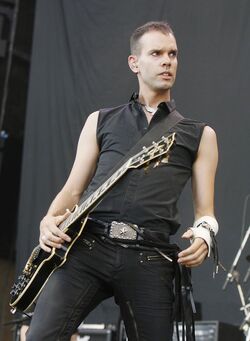 Stefan Olsdal (born Stefan Alexander Bo Olsdal, 31 March 1974, in Sweden is the Guitarist/bass guitarist of Placebo. He moved to Luxembourg when he was young and went to the American International School of Luxembourg along with fellow band member Brian Molko (though the two were not friends at this time). Olsdal began playing music in his school's orchestra in 1987. He completed his high school education in Sweden and moved to London with his parents, where he attended the Musicians Institute. He is openly gay and in a relationship with a Spanish man he said he met one week before the band was formed. He came out publicly in an interview in Melody Maker in 1996. Olsdal has said he was in the sports crowd in school and Brian Molko was in the "loser crew".
Olsdal met Molko by chance outside South Kensington tube station. The two of them formed Ashtray Heart after Olsdal heard Molko and Hewitt play in a pub in Detford, UK. They wrote four songs, but decided to try out as a serious band, so they invited Steve Hewitt who could not be in the band because he was already signed to another record company. After that, Olsdal invited old schoolmate Robert Schultzberg (who was at the time studying in UK) to join as Placebo's drummer (Hewitt would later replace him as the full-time drummer).
Together with Molko, he is credited as co-author on every Placebo song to date (except "Ashtray Heart" from Battle for the Sun which was credited solely to Molko) and co-produced Black Market Music and some b-sides.
Some of his stated influences are Depeche Mode, Eurythmics, ABBA, Iron Maiden, The Cure and David Bowie.
Hotel Persona began when Olsdal and David Amen started providing dance tunes to friends' house parties; Javier Solo was recruited to sing Spanish vocals, and Olsdal sang the English versions. As the music was coming together, Olsdal and Amen did DJ work under the Hotel Persona name in such locations as Milan, Paris, London, Barcelona and Rio. They have also remixed songs by various bands, including Queens of the Stone Age, Placebo and She Wants Revenge.
Their debut album In the Clouds was recorded and mixed in London, Madrid and New York over two years and features a wide array of additional vocals from various artists including Brian Molko, Samantha Fox, Miguel Bosé and Alaska of Fangoria.